What do I do if I am worried my child has sepsis?
Get advice from a doctor or healthcare professional or ring 111
Your child will need to be examined and have a set of vital signs measured (temperature, heart rate and blood pressure)
Remember most children with fevers or who are unwell, don't have sepsis
Tests
There is no one test to see if your child has sepsis. The tests to look for the infection will vary depending on their age, symptoms and medical history. They can include blood tests, urine tests, chest X-rays and occasionally lumbar puncture (needle in the back to collect spinal fluid)
Your healthcare team should talk to you about any tests or procedures they would like to do, what will happen and what they are for
Remember
If you're worried that your child or baby is not getting better, still seems unwell or is not themselves, you should talk to a doctor or other healthcare professional. It is important to ask for advice if you're worried, even if you have already seen a doctor, are still having treatment, or are back home. This is because the problems caused by sepsis can come on very quickly, and you may need more (or different) treatment. You should always feel that you can ask questions at any point in your care.
Symptoms of sepsis - NHS (www.nhs.uk)
Sepsis: what to look out for and what care you should expect (nice.org.uk)
Treatment
Most children with earache do not require treatment with antibiotics. Antibiotics rarely speed up recovery and often cause side effects such as rash and diarrhoea. They will also promote the development of antibiotic resistant bacteria in your child.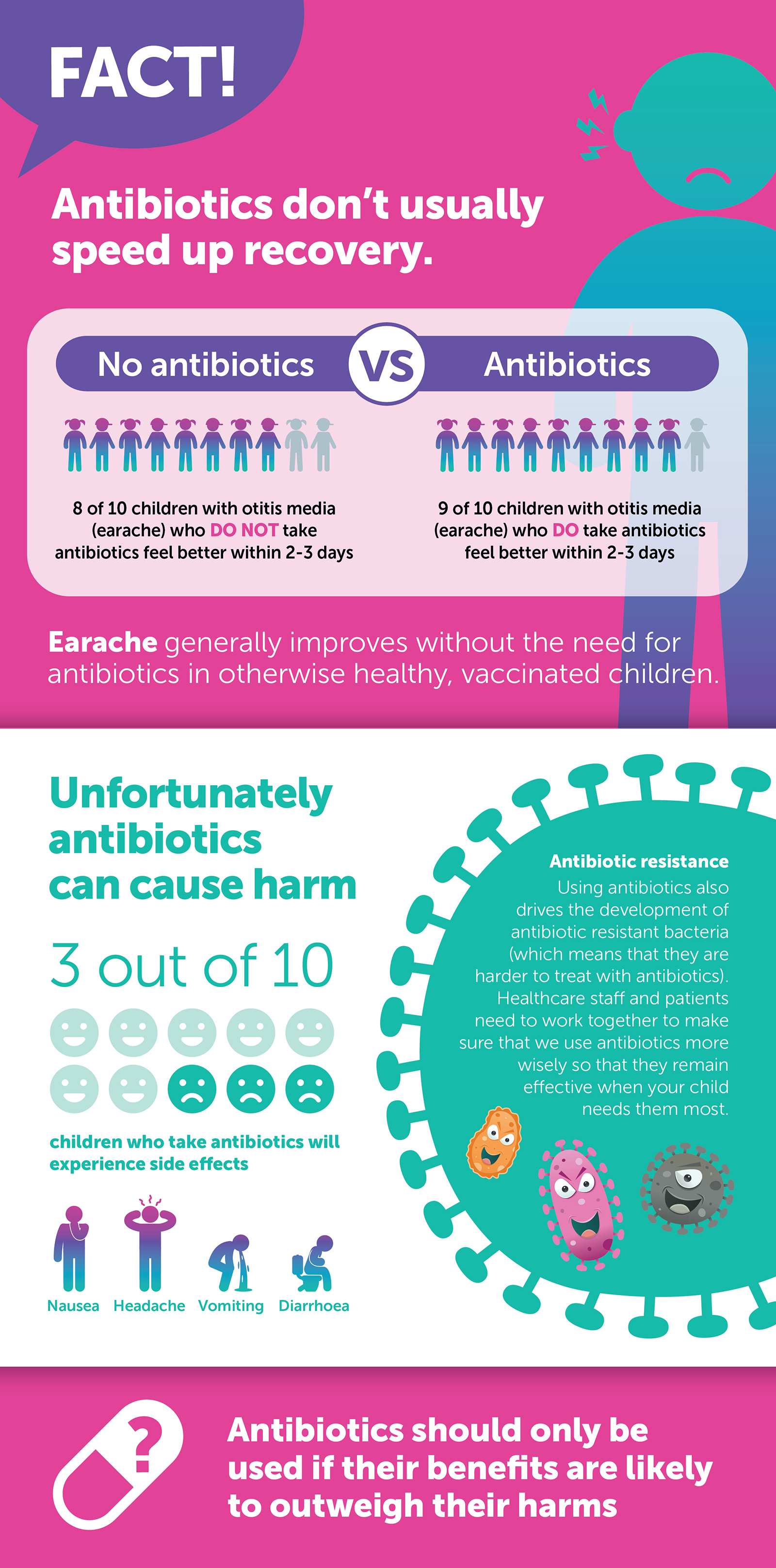 Antibiotics are usually only considered if your child:
Is under 6 months of age and has otitis media (a middle ear infection)
Is between 6 months and 2 years of age with infection in both ears, or with associated symptoms such as altered sleep, fever and overwhelming misery
Has pus draining from their ear
Has a serious health condition that makes them more vulnerable to serious infection
If your child has any features of severe infection (amber or red features above), they will need to be urgently assessed by a healthcare professional
You can help relieve symptoms by:
Giving your child paracetamol or ibuprofen to help relieve pain
Encouraging your child to drink plenty of fluids
Give calpol if necessary
Prevention
It is not possible to prevent ear infections; however, you can do things that may reduce your child's chances of developing the condition.
Avoid cleaning your child's ears with cotton buds – this may damage and irritate the ear canal and pushes wax further into the ear. Wax is designed to come out by itself
Try not to let soap or shampoo get into your child's ear canal
Try to keep your child's ears dry; if water gets in, tip it out as soon as possible. However, this can be extremely challenging in young children!
Ensure your child is up-to-date with their immunisations
Avoid exposing your child to smoky environments (passive smoking)
Feedback Question: Has the advice on this page helped you with a healthcare decision?